Marc Ouayoun has been CEO of Porsche Cars Canada since January 2018. The 50-year-old Frenchman was sent across the Atlantic to expand Porsche's presence in Canada in the same way he had already succeeded in his home country – with a passion for the brand and a concept based on practice and personal contact. In France, Ouayoun had driven countless miles in his beloved Panamera GTS to visit colleagues and dealerships across the country. He wanted to know more about their respective wishes and ideas and thus bring an important personal touch to the business relationship. Now, however, there was a big problem. Canada is 18 times the size of France. And that meant above all one thing: traveling very long distances.
This summer, following pandemic-related travel restrictions, Ouayoun hatched a plan to visit seven Canadian Porsche Centers: all part of an extended drive from the company's Toronto headquarters to Vancouver, British Columbia, covering approximately 5,000 kilometers across Canada. almost endless, breathtaking scenery. The busy CEO had to carefully plan this trip so he could schedule important meetings and appointments.
"It means something when you leave and drive towards people," Ouayoun says. "It's not just a business trip, it's an effort. The main reason I wanted to visit our Porsche Centers was kind of to take the initiative, but my second motivation was to experience what that truly defines Canada. You better understand a country you have driven through.
Ouayoun left Toronto on July 23 in a new Panamera GTS. From day one, he traveled to Sault Ste. Marie, a town on the Saint Marys River in Ontario, 700 kilometers back. He covered the same distance again the next day, and on Sunday another 500 kilometers were added. Finally, Monday morning, he still had two and a half hours to go to the Porsche Center Winnipeg.
"The diversity of landscapes along the route can hardly be expressed in words," Ouayoun enthused. "It can look the same for hundreds of kilometers and then suddenly everything changes. Ontario's roads are winding and beautiful; they run along Georgian Bay around Lake Huron. But as soon as you leave Ontario you are almost in the prairie where the landscape is just flat and has a completely different vibe. Still, it was one of his favorite parts of his trip. "Being quintessentially Canadian also means finding yourself somewhere in the middle of nowhere once in a while – and a walk through the prairie where you really feel alone is definitely part of that experience."
The next leg of his journey took Ouayoun northwest towards Yorkton, Saskatchewan, and included visits to several Porsche centres: first in the provincial capital of Saskatoon, then in Edmonton and Calgary, Alberta. Ouayoun then spent a well-deserved quiet weekend in the Kelowna area of ​​British Columbia before continuing his road trip to other Porsche centers on his tight schedule. The center of Kelowna itself was followed by another five-hour drive to Porsche Center Langley and the last overnight stay before the trip's final destination, Porsche Center Vancouver. When he stopped here, the Panamera had almost 5,000 more kilometers on the odometer than before the trip started.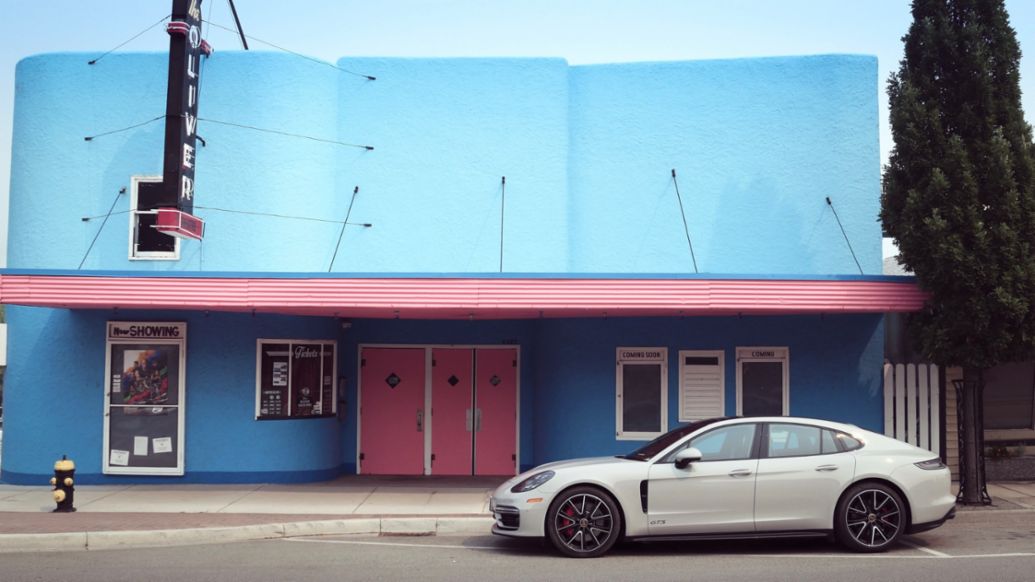 "The schedule was ambitious, but thanks to good preparation for the trip, I was able to arrive on time for all the scheduled appointments," says Ouayoun. "Of course, there were challenges. Refueling, for example, must be well planned, as there can be 150 kilometers between two filling stations. And you have to watch your speed. Speed ​​limits vary between 90 and 120 km/h, although the roads definitely encourage you to go faster. "However, I was not even flashed! And then there is the weather. Once in Ontario, it was five degrees during the day, with heavy rain and fog. The next day it was 30 degrees and extremely humid.
With this long and arduous journey, Ouayoun also wanted to show how much he himself believes in the Porsche product. "With this road trip, I was able to show that our cars are made to be driven, that they are part of the journey", he explains. "And the Panamera GTS was amazing – so soft and comfortable, but at the same time full of character and amazing sound. He helped shape that experience to a large extent.
The Panamera was welcome everywhere, even in the most remote corners of the country. Ouayoun recognized how positively the brand is perceived in places where Porsche vehicles are rarely seen. And in the centers themselves, he found that special sense of community that unites Porsche around the world.
"Canada is a great country. You have to travel 1,500 miles west of Toronto to reach the nearest Porsche Center in Winnipeg, but once there you can feel how closely the brands are intertwined. When I spoke to the team people there, I felt like they were my next door neighbors because we share the same passion and they are just as committed and motivated.
Travel restrictions put in place since the start of the coronavirus pandemic have given Ouayoun the chance and time to visit seven Porsche Centers, five new buildings and the latest charging station locations under the "Porsche Destination Charging" program. " by car. During his trip across Canada, he not only had the opportunity to come into contact with many colleagues, but also to really get to know his new home.
"It is very important to start such a road trip. You just feel free and connected both to the country you are crossing and to the vehicle itself," says Ouayoun with conviction. "With a car, you can go where you want, stop when you want and find out where you are. And that's a big part of what Porsche is about: creating versatile vehicles that allow you to go further, discover more, meet new people and create great memories – no matter the distance, the weather or road conditions. "
Lifelong zombie fan. Twitter evangelist. Unapologetic travel buff. Hipster-friendly introvert. Typical creator